Happy Thursday! FIS continues to follow CDC Guidelines for COVID Mitigation. We are asking our families to continue to work together and unite as one over the next few days and weeks. We need your help! Tomorrow, we have a big rivalry game vs. Franklin County HS in basketball at home and we are asking all families to mask up and social distance. Thanks for your efforts! As cases continue to climb, we must remain focused on the safety and mental health of each and every child. Go Panthers!!

January 15, 2022 **** For Immediate Release **** Frankfort Independent Schools is excited to announce the hiring of Katelyn Blair as Head Softball Coach at Frankfort High School. Coach Blair fell in love with softball when she was 8 years old and played at every opportunity from then until she graduated from Berea College. She attended high school at Rockcastle County High School in her hometown of Mount Vernon, Ky where she graduated in 2012 as the 5 year starting pitcher. Between seasons, she played on summer and fall travel teams. Katelyn is a 2016 graduate of Berea College where she majored in political science and child development. She was a 4 year starter for the softball team as a pitcher/utility player and was a captain during her senior season. When not on the pitcher's mound, she was a starter at both infield and outfield positions depending on the needs of the team. In 2015, Katelyn had the opportunity to travel with her team to the Small College World Series at Akron Racers stadium in Akron, Ohio, where they entered as the 10th ranked team but finished as national runners up. She finished her pitching career at Berea College holding the school record for innings pitched and finishing as runner up for career strikeouts, wins, shutouts, and career ERA. After graduating college, she served as assistant high school softball coach at both Frederick Douglass High School and at Tates Creek High School in Lexington, Ky. She was also active in the softball community—providing private lessons and coaching for the local youth league. She and her husband, Matt, moved to Frankfort in August 2021. Katelyn works full time for the Kentucky Public Pensions Authority and enjoys spending her free time with her family and her pets. Principal Tyler Reed stated "We are thrilled to have Coach Blair at the helm of our Softball Team. She brings a level of experience and expertise that will truly move our program to the next level. Frankfort High has a solid core of young athletes, and with Coach Blair's knowledge of the game, we will see our athletes skills expanded and the game of softball taught. We look forward to hanging a softball banner in the near future!" Coach Blair will be in touch with current and prospective players very soon to get all introductions, information, and practice under way. We look forward to seeing everyone out at State Stadium this spring to show our Lady Panther Pride!

Good morning! I hope our Panther families are doing well! We will be offering Drive-Through COVID Testing on Tuesday January 18 and then every Monday starting January 24 from 3:30 PM - 6:00 PM at Second Street School.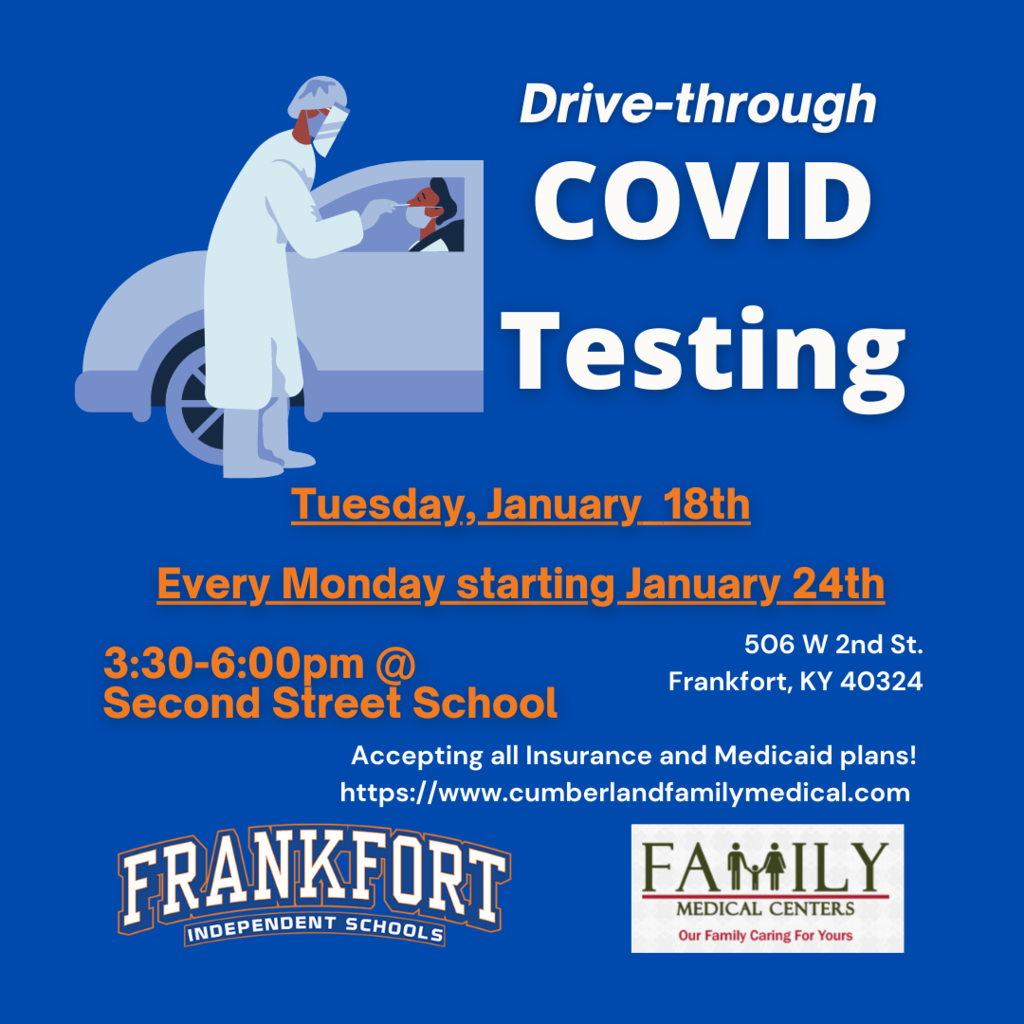 Happy Tuesday Panther Families! If you would like for your child to receive a booster, please sign up for this Friday's (January 14, 2022) Booster Clinic at bit.ly/fisbooster

FIS Families - Tomorrow will be a traditional snow day. Frankfort Independent Schools will be closed. No Pre-K, no wrap around. No activities and athletics. Enjoy the day, enjoy the snow. Drink some hot chocolate for me. I challenge you to read as well! Go Panthers!

Happy Thursday FIS Families! I'm sure you are wondering about the probability of school tomorrow. There are several factors involved in regards to decisions for school delays and closures in FIS. We just ask that you be patient with us! We have not made a decision at this time.

Good morning FIS Families! Frankfort Independent Schools will be on an early release schedule today due to potential inclement weather this afternoon. Second Street School will be on a 12:00 PM dismissal schedule and Frankfort High School will be on a 12:30 PM dismissal schedule. There will be no afternoon Pre-K and Wraparound. All activities and athletics are cancelled for the evening. Please be safe and thank you for being a Panther!
See this attached graphic about Kentucky Pandemic Electronic Benefit Transfer (P-EBT).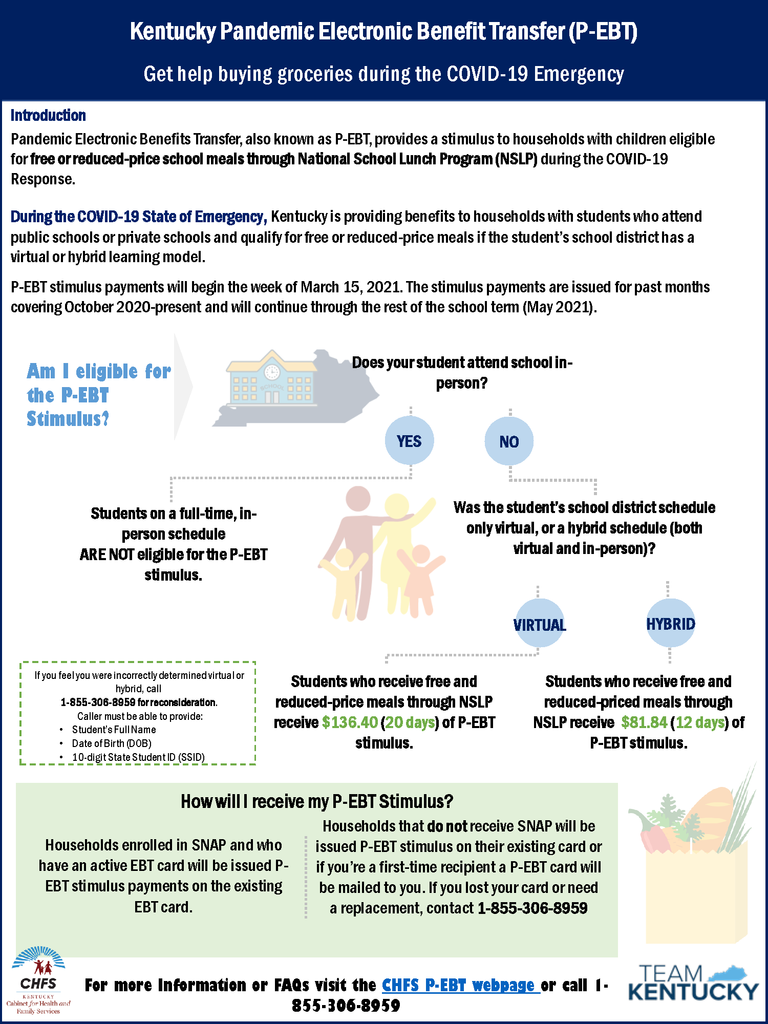 As a response to virtual learning this 2020-2021 school year, the FHS Art classes have been learning to use their computers to make art. Students had several projects to practice the skills they were learning, along with the elements of art. The final projects pulled those skills together. The Animal Icons and Self-Portrait artworks were created by the students using Google Draw while the Patriotic Portraits, and New Species photos were created in Pixlr.com a tool like Photoshop while they learned photo manipulation. The students enjoyed learning art this way and some found their hidden talent. Check out all of the artwork here:
https://www.frankfort.kyschools.us/page/fhs-digital-art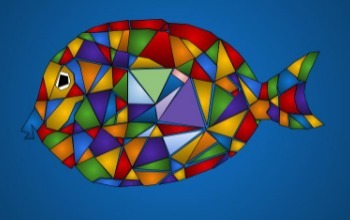 If a student, teacher, or staff member tests positive for COVID-19 or thinks they may haveCOVID-19, follow this guidance to keep the community safe. Read more:
https://5il.co/11sm3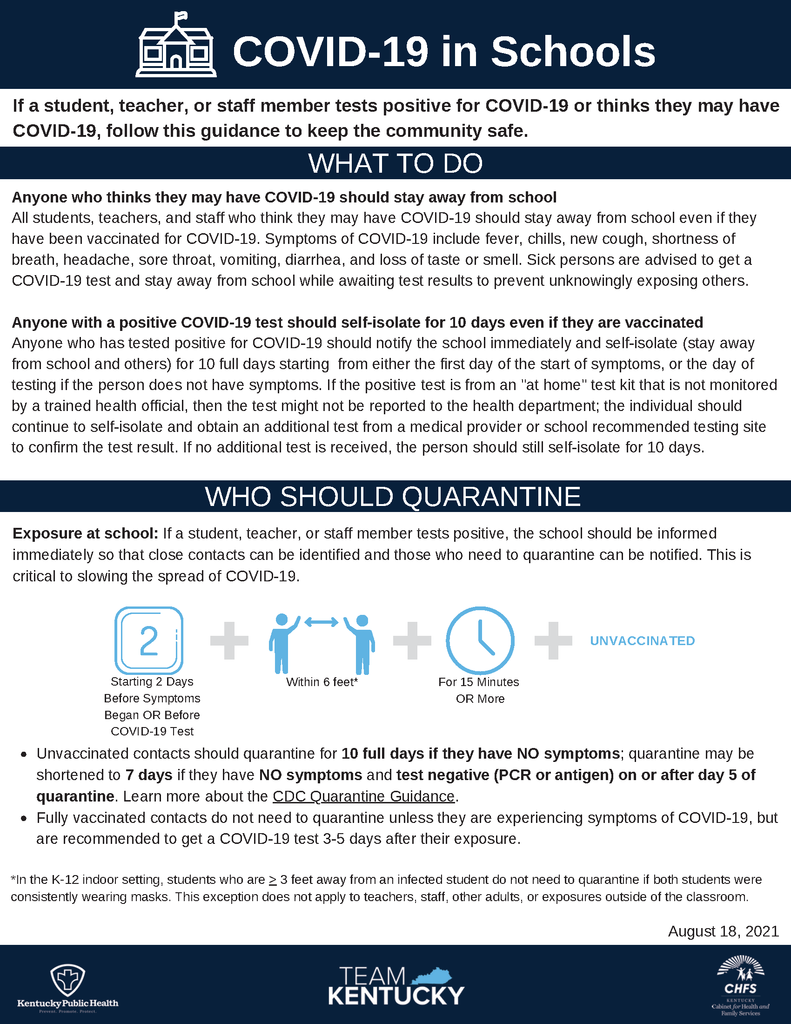 The Kentucky Integrated Health Insurance Premium Payment (KI HIPP) program is a voluntary Medicaid program that helps families pay for employer sponsored health insurance premiums It is for families with at least 1 Medicaid member on the policy. Read more here:
https://5il.co/11sm8